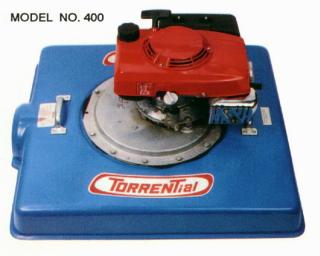 THE FLOATING WATER PUMP
For removal of large liquid volumes, where economy and portability are factors.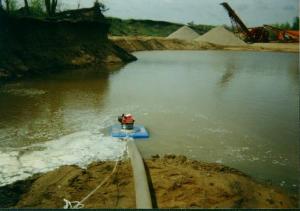 ---
Applications
FOR MUNICIPAL GOVERNMENT - TORRENTial is ideal for emergency flood control, and construction projects.
FOR AGRICULTURE -TORRENTial will water livestock, irrigate or remove water from flooded areas drain sloughs, assist in mosquito control.
CONSTRUCTION - TORRENTial for instant action! Removal of water from all types of excavations, preparations for low lying road beds, culverts and drainage systems. Ditch draining for pipeline installations.
FIRE CONTROL - TORRENTial can provide a quick supply of water to a fire area from nearby natural resources, create fire breaks, wet down slopes in periods of extreme fire hazard.
MINING - TORRENTial can drain swamped ditches in strip mining operations, provide a source of water for the mill, etc.
---
TORRENTial Models 200 and 400
Features
Large Volume, 42,600 to 48,200 U.S. Gallons per hour.
Lightweight and portable.
So compact it can be transported in a car trunk.
Economical and speedy operation - set it and forget it.
Floats on the water surface and settles to the bottom when water recedes.
Will continue to pump in only a few inches of water.
Long life wear resistant polyurethane impeller.
Heat treated metal gears.
Gears lubricated by oil bath within an enclosed independent gear case.
Impeller drive shaft rotates on sealed ball bearing
---
---
ORDERING INFORMATION
You can get more information or place an order by Phone, FAX, US Mail or Email. We also have several authorized dealers for you to choose from.
EMail to torrent@prtel.com or
Phone 1-218-736-2637
FAX 1-218-739-0720
Torrential Pump Company, P.O. Box 311, Fergus Falls, MN 56537-0311, USA
---
Created by TJ Creations, 920 East Lincoln Ave, Fergus Falls MN 56537